Thoughtful and sensitively designed to support the bereaved in time of loss
(London, June 2021) – Grief will inevitably touch us all – and can have a significant impact on our mental health, if not processed healthily. Yet it's something we don't tend to talk about.
But with the recent pandemic, grief is coming into the limelight with health policy makers warning of the inevitable 'grief crisis' surrounding the nearly 4 million lives lost to COVID-192, with 9 people on average affected by every death. As the New York Times put it, 'There is no vaccine for grief' – forcing us to face up to the lack of effective, accessible support for the bereaved.
This is why Headspace's former Head of Research, Nick Begley, and the self-development company Psychological Technologies he founded, partnered up with Grief expert, therapist and best-selling author, Julia Samuel, MBE, to help support people through the process. Samuel, who is also a Vice President of the British Association for Counselling and Psychotherapy, believes Grief Works can fill in for the current shortage of public resources available to the bereaved:
"Grief can turn people's lives upside down and currently there's a 6-12 month waiting list to be assigned a counsellor from the NHS, and private therapy is not affordable for most. I wanted to create a way to support as many people as possible, exactly when they need it most."
Samuel and Begley partnered up to help make support accessible to the many people suffering from losing a loved one around the globe, through COVID or other causes. Begley explains,
"Grief hurts, but if we can let ourselves feel the pain and work through it, it's healing. Nowadays it's so easy to avoid our feelings though, through work, alcohol or social media, we don't get the chance for grief to do it's work, which is why 15% of mental health disorders have been found to come from unresolved grief. Many people can't afford therapy or don't want to reach out for help. People often turn to books, which while comforting, don't guide you through your own process. So we wanted to make a structured, guided, interactive programme available to everyone, at the cost of a coffee a week, to help people to process their grief step by step."
How it works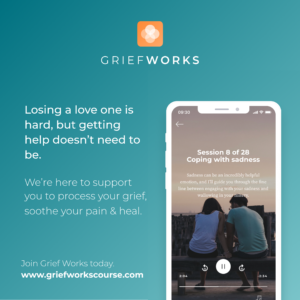 Drawing on Samuel's 30 years of experience as a leading grief therapist and based off her best-selling book of the same name, the Grief Works app was specifically designed to effectively address the full range of emotions surrounding grief.
Samuel offers her time tested advice in a 28-session course, with each session detailing common issues confronted by the bereaved, including how to manage feelings of guilt, how to ask for support from friends and family, and what to do when approaching dreaded milestone dates like the deceased's birthday.
Just like having the guidance of a therapist, the app pairs Samuel's advice with actionable practices and exercises, gently nudging users to record and examine their own thoughts and feelings. The app also offers more than 30 interactive tools users can turn to whenever they're overwhelmed by their emotions, including breathing visualisation exercises, guided meditations, daily gratitude check-ins, prompted evening reflections, and more.
"I loved the fact that everything I needed was there in one place," says Grief Works user Nadine, 52, who lost her husband to brain cancer. "When you're grieving, the last thing you want to do is search the internet for stuff or even pick up a book."
Sensitively designed
"Everyone's experience of grief is completely unique," says Katie Brown, PSYT's Head of Content. "We were careful to make sure the user journey isn't too structured or prescriptive, instead giving lots of ways for people to explore the available tools, as they need, at their own pace, and to come to their own conclusions."
Pricing
Grief Works is now available for iOS and Android on the App Store and Google Play Stores. The app offers a freemium version, with subscription options ranging from 3 months support for £49.99 or £199.99 for lifetime access, to access all the course sessions and full suite of tools.
For further information, trial access to the app, interviews, or hi-res images:
If you would like to download the app to try for yourself or would like to request an interview, please contact the Grief Works press office: Charlotte Tobin